The toolkit consists of a series of 12 different illustrated posters, this website, a series of YouTube webinars and presentations during the Unite for City Rights Conference: 12 – 14 May 2022. Each poster has a QR code which directs you to this online toolkit. Here you can find more resources, background stories, and all the other collected practices. Click on the posters above to go directly to the respective practice.
Everyone is invited to take a look at the collection of practices and roadmaps to make our cities more inclusive for undocumented people. We hope the posters will inspire you to organise, implement and campaign for those practices in your city. In case you want to know more about a certain practice, you can either reach out to the local organisation (logos are on the posters) or just get in contact with Here to Support.
The conference in Pakhuis de Zwijger has been recorded. Here below you can watch the presentations of the posters by the City Rights United partners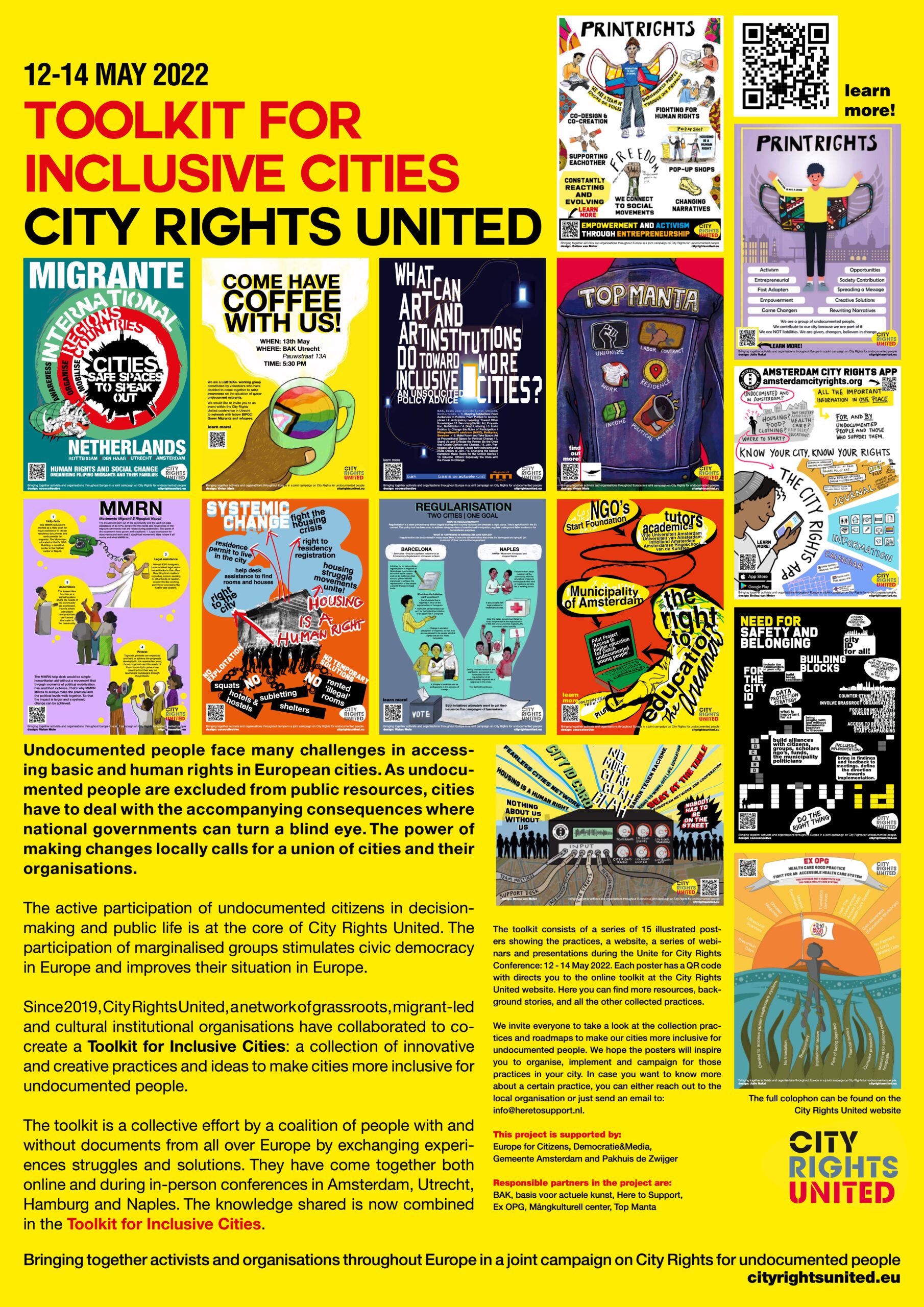 Inclusive cities for All
We start with members of Amsterdam City Rights: Marion Grace Labasan, Hidaya Nampiima, David and Liza Saris.
We then check-in on various migrant movements that have played a central role in strengthening the position of undocumented people:
Paula-Adjo Soli Consuegra (Abarka Cooperative, Barcelona) reflects as teammember of the City Rights United project on the position of undocumented LGBTQI+ people.  Mariema Faye (Ex OPG, Naples) shares the toolkit that was developed around regularisation campaigns (making irregular migration regular).  Eunice de Asis (Migrante Amsterdam) shares her experiences.
Next we reflect on future steps in the movement towards increasing the position of undocumented people and their access to basic human rights:
Mohamad Bah and Riccardo Biggi present and launch The City Rights App.
Marion Grace Labasan (Amsterdam City Rights) talks about the City ID card for undocumented people. Kawtar Koubaa (City of Amsterdam) reflects on the access of undocumented people to education. Eunice de Asis (Migrante Amsterdam) discusses the access of undocumented people to housing.
From Toolkit to transformation
Change can not come from grassroots movements alone. We also need the municipalities and national governments to change their policies, laws and perspective. What can European cities concretely do to be more inclusive for undocumented people, and how can this movement translate to the rest of the world? We end this theme night with various calls to action, reflections, live music and spectacular fashion-shows by migrant-led initiatives Topmanta and PrintRights.
In order for this "Toolkit for Inclusive Cities" to become more than a toolkit, for it to catalyze real change in our European cities and countries, we end this evening with various calls to action. We do so through pitches and talks with:
Amsterdam Deputy Mayor Rutger Groot Wassink, who was responsible for Social Affairs, Democratisation, Diversity ánd Undocumented People in the city during the past four years. Rotterdam city counselor Imane Elfilali, who also participated in the breakout session A roadmap to the City ID. Non-binary BIPOC refugee parent, anti-oppression trainer, human rights activist and climate justice campaigner Shanthuru Premkumar, will give a recap from the Regularize Now! breakout-session. Illustrator Vivian Mule will present the poster she made during the Re:framing migrants in European media breakout-session.
There is also live music by the Black Hand Collective and Avi Dje & JO BISSA, and two topnotch fashion-shows by Top Manta and PrintRights.
Colophon
We want to thank all the people in the City Rights United community who have contributed to the project from October 2019 – May 2022.
Savannah Koolen Amsterdam Here to Support – Amsterdam City Rights // Malou Lintmeijer Amsterdam Here to Support // Liza Saris Amsterdam Here to Support // Mohammed Bah Amsterdam City Rights App, City Rights Radio // Rahaf Alsleman Amsterdam Here to Support // Diane Bonifax Amsterdam translation // Eunice de Asis Amsterdam MIGRANTE, Working Group Community // Ale Sánchez Amsterdam Working Group Community LGBTQ // Agazit Naizghi Amsterdam Working Group Community LGBTQ // Dennis Osasasenoguan Amsterdam Working Group Community LGBTQ // Hidaya Nampiima Amsterdam Amsterdam City Rights // Ousman Amsterdam ACR // Lisa Elsenburg Amsterdam Here to Support // Sarah Teixeira Amsterdam Working Group Community LGBTQ // Fanny van der Vooren Amsterdam Hts// Marion Grace Labasan Amsterdam Amsterdam City Rights // Riccardo Biggi Amsterdam City Rights App // Sitsi Toonders Amsterdam Health Care webinar
Hidde van Greuningen Utrecht BAK // Sanne Karssenberg Utrecht BAK Utrecht // Jun Saturay Utrecht BAK, MIGRANTE // Ana Bajt Utrecht Working group Community
Mikael Morberg Fittja, Stockholm Mangkulturellt Center // Maria Sundström Mangkulturellt Center
Maurizio Coppola Napels Ex-OPG Coordination // Kadir Monaco Napels Ex-OPG MMRN Working group Regularisation // Abdel El Mir Napels Ex-OPG MMRN Regularisation // Mehdi Ouizrale Napels Ex-OPG MMRN Regularisation // Mariema Faye Napels Ex-OPG MMRN Regularisation // Hamza Bouziane Napels Ex-OPG MMRN Regularisation // Rachele de Chiara Napels Ex-OPG MMRN Regularisation //
Barbara Tassone Napels Ex-OPG Coordination Napels conference 2022 // Alessia Alfredo Napels Ex-OPG Health Care
Mamadou Lamine Sar Barcelona Top Manta // Mouhamadou Siradiou Dia Barceclona Top Manta // Abdoulaye Seck Barcelona Top Manta // Paula Soli Barcelona Top manta, Abarka, coordination // Mor Sarr Barcelona Translator Top Manta
Toolkit designers & Creatives: Annette Kouwenhoven Amsterdam Lead Designer // Vivian Mule Hamburg Designer // Betina van Meter Amsterdam Designer // Juli Nakazi Utrecht Designer // Mona Dolati Utrecht Designer //Rumor Film, Sebastian Vetter & Nicolai Löckelt Hamburg Movie and Photography
Asmara Hebtezioni Hamburg Asmara's world // Buba Fadera Hamburg Asmara's world // Habtom Zerabruk Hamburg Asmara's world // Juliette Gagliardi Hamburg Asmara's world, Coordinator Acces to Health Care working group // Federico Bufacchi Rome Working Group Community Health Care // Vanessa Soria Hamburg Asmara's World
Malamine Soly Barcelona Participants and Catering Amsterdam conference, Abarka // Cheikh Abdoul Khadre Drame Barcelona Participants and Catering Amsterdam conference, Abarka // Cornelia Hountondji Agbodo Barcelona Participants and Catering Amsterdam conference, Abarka // Kaire Ba Barcelona Participants and Catering Amsterdam conference, Abarka // Sergio Forcén Barcelona Participants and Catering Amsterdam conference, Abarka //  Nina Hetmańska Brussels Participant Napels 2022 //  Ulf Peterson Stockholm Participant Napels 2022 // Zahra Salah Uddin Berlin Participant Amsterdam 2022, Unbias the News // Gabriella Ramires Berlin Participant Amsterdam 2022, Unbias the News // Ciara Redmond UK Participants Amsterdam 2022, We Belong // Tania Stein UK Participants Amsterdam 2022, We Belong // Elizabeth Etti UK Participants Amsterdam 2022, We Belong // Sanaz Azimipour Berlin Participants Amsterdam 2022, MigLoom, Nicht Ohne uns 14 Prozent //
Shanthuru Premakur Brussels Participants Amsterdam 2022, In My Name // Azadeh Ataei Berlin Participants Amsterdam 2022, MigLoom, Nicht Ohne uns 14 Prozent // Lucas Tello Perez Sevilla Participants Amsterdam 2022, Zemos98 //
Fernando Chironda Brussels Participants Amsterdam 2022, Association Comitato 3 Ottobre// Nik Hann UK Participants Amsterdam 2022 ,Radio Calais // Barly Tshibanda Copenhagen Bridge Radio //