Top Manta is both a brand and a business dedicated to supporting, advocating and demonstrating the capabilities and value of migrants who want to work legally to contribute to the city of Barcelona and its economy.
The Popular Labor Union of Street Vendors of Barcelona founded the brand Top Manta back in 2017 and brought together more than 300 migrants mostly Senegalese, who initially sold goods on the street and has been dedicated to the fight against racism and the institutions that allow it.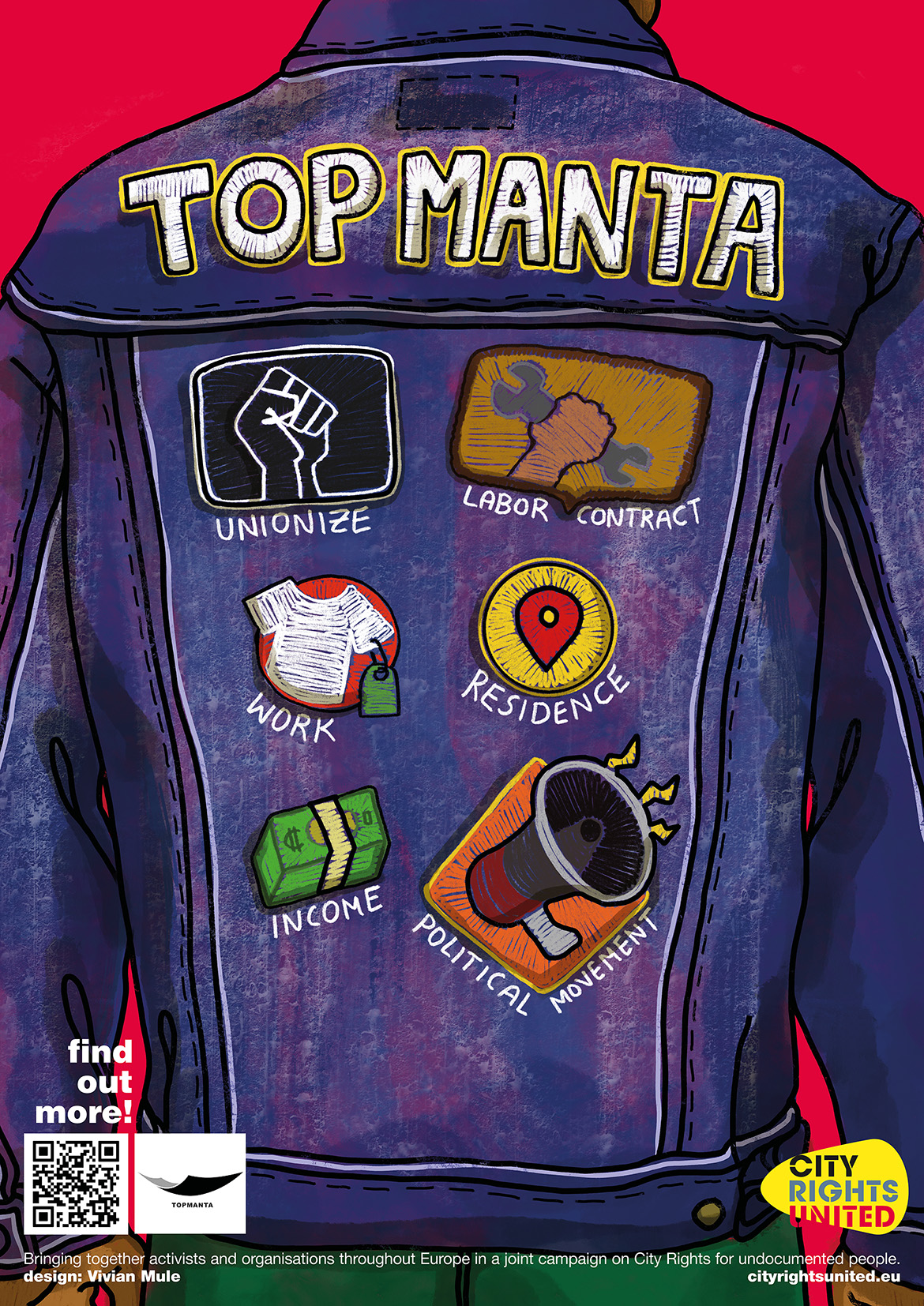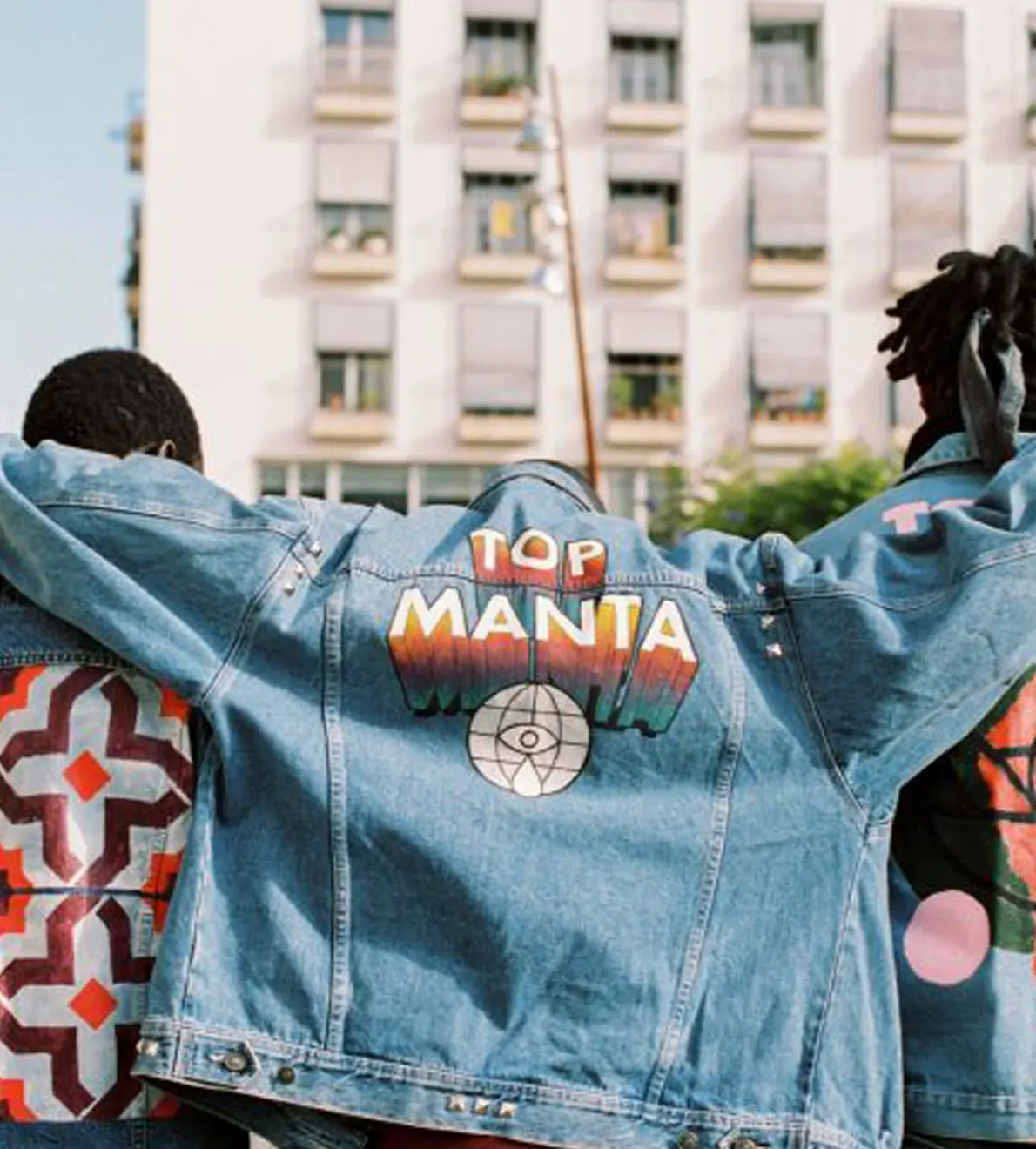 This project has been created and is carried out by people on the move as a collective that experienced displacement. The Association is mainly composed of migrants and racialized people. Currently, is made of 150 migrant members, of which 9 of them are fully involved in Top Manta Project. Since our creation, we have achieved the regularization and integration of 85 street vendors, either through a contract of at least one year with our association or through our struggle with which we have managed to get the city council to launch labor initiatives for the street vendors that include various occupation plans that involve labor contracts of at least one year duration to achieve their regularization.
We create our own cooperative and dignify our work. Through the structure of cooperative we are able to provide our community with labor contracts and in the end with regularization status.
We want to integrate our story and presence into the city and create more awareness of the street vendors' struggles. We want to eliminate racism and get the necessary support from society and political groups to modify the current legislation that discriminates against the poorest and most vulnerable collectives.
Our idea is to expand the possibilities of self-employment so that colleagues who have trades and knowledge can apply them in some type of service, promoting the presence of migrants in the cooperative world and favoring the development of a global social market.
Our project and self-management model has begun to be implemented in other cities in Spain and we believe that it can inspire all vulnerable groups and extend to all countries of the world, so that migrants can work and reside legally in the country to which they migrate, be able to demonstrate their worth, their knowledge and culture, have a dignified life and strengthen ties with the host community.
This is how we understand self-management: political innovation for a more just and hopeful horizon. We are convinced that promoting the presence of migrants in the cooperative world favors development from an anti-racist perspective and the improvement of the social market.
These are the 4 main pillars:
Seek labor solutions to the group of street vendors in our city and the exclusion suffered due to current migration legislation that prevents migrants from accessing a decent job and life.
Build bridges with local community: integrate our collective into society, improve our living conditions, dignify our work, demonstrate our value and contribute to the economy of the planet and our host country.
Advocacy: promote and contribute to the elimination of migrant discriminatory laws.
Contribute to the sustainable development of our planet by using organic and fair trade textiles.
We are currently working on the following lines of social and solidarity economic activity:
The main activity is local commerce: design, sewing, screen printing and sale of our own fashion garments and other products (t-shirts, sweatshirt, bags, caps, shoes), as well as screen printing services.
Training services, advocacy, cultural exchange activities and talks aimed at entities, groups, schools and in the public governance: training in anti-racism, in the rights of migrants.
Food services: street vendors' dinners (Senegalese food services, mainly in popular festivals, political, cultural meetings, etc.)
We have also run a campaign on Regularization, which reached a vote in the Spanish parliament.
Top Manta as a concept is also expanding to other cities in Spain, and now could also be translated to other countries.